Safety is our number one priority.
All visitors to Viterra sites need to comply with all relevant legislation, company and site specific requirements, adhere to relevant codes of practice, maintain all applicable licences, registrations and insurance and follow employee instructions to ensure the safety of all people on site.
Unsafe practices or conditions are not accepted on any site. If you become aware of an unsafe practice or condition while on our site, please report it to a Viterra employee.
Site safety rules
Our safety rules have been designed to minimise risks and ensure all workers and visitors return home safe every day.
Growers delivering grain to a Viterra site, or carriers delivering on a grower's behalf, are required to have a valid Viterra safety card. If you hold a valid sitepass card for road transport you do not need a safety card. Find out which card you need to visit a Viterra site.

All drivers are required to comply with our site traffic management plans, directions given by employees and all speed restrictions and signage at all times.

Personal protective equipment (high-visibility clothing and enclosed footwear) must be worn everywhere outside of vehicles, amenities and offices.

Hard hats must be worn in all areas except for marshalling yards, classification areas, bunkers, offices, and amenities.

Eyewear must be worn by anyone when outside their vehicle at loading/discharge areas. This is when you are most exposed to dusty environments and at risk of an eye injury.

If you are on our site at night we strongly encourage you to wear high visibility clothing with reflective strips.

Children (under 15 years) need to be under their guardian's supervision at all times. Anyone without a Viterra safety card must remain in the vehicle cabin in operational areas.

Climbing on vehicles should be minimised and only undertaken where the operator has a planned safe method to undertake the task, can maintain three points of contact and the ladder is fit for purpose.

It is the responsibility of the driver to ensure all vehicles comply with chain of responsibility legislation.

Road rules apply to Viterra sites, this includes laws regarding drugs and alcohol, and mobile phone usage.
Heavy vehicles
Truck incidents can cause serious injury and damage.
As vehicle operators the safety and security of your vehicle is your responsibility at all times.
We have had a number of incidents where vehicles have moved without anyone in control of that vehicle which is a major safety risk. Ensure you:
Apply park brakes prior to leaving the vehicle cabin
Use park brake alarms, where fitted
If you require disengagement of brakes for the purposes of discharging or receiving your load (eg tip over axle vehicles) you will be required to implement a safe system of work to the satisfaction of a Viterra employee. Please contact your local regional office to discuss this prior to harvest
After reviewing any incident of an uncontrolled vehicle movement, Viterra may take appropriate and necessary action. This may include requiring evidence of certification, road-worthiness and denying access to sites if a vehicle is deemed to be unsafe.
Vehicle operators must also be aware of mass management and vehicle hygiene requirements.
Truck safety on site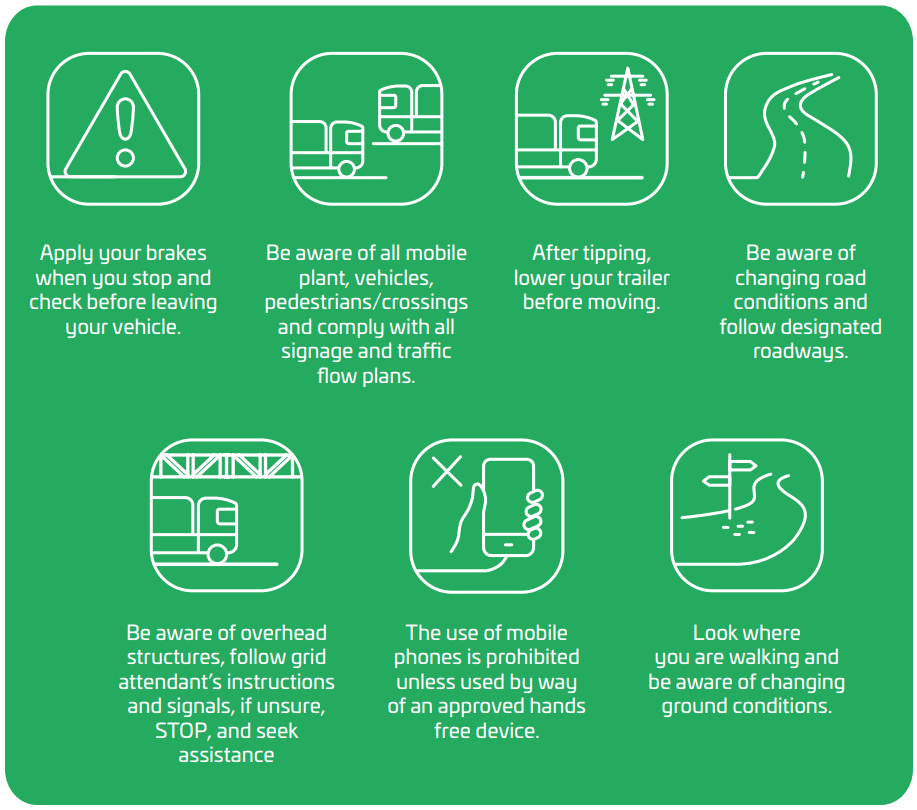 Drugs and alcohol
Viterra requires that anyone operating equipment on our sites is fit for work. This includes complying with the relevant drug and alcohol legislation.
If Viterra believes anyone on site is unfit for work, employees are authorised to take appropriate action to ensure the safety of those on site.
Mobile phones
The same rules for using mobile phones on the road apply to Viterra sites.
Drivers are not permitted to operate their vehicle while using a hand held phone and can only use their phone via a hands free system.
If a hand held mobile needs to be used the vehicle must be stationary and parked.