| | 30 October - 5 November 2023 | Total 2023/24 harvest** |
| --- | --- | --- |
| Viterra total receivals* | 760,588 tonnes | 1,498,590 tonnes |
| Western region receivals | 334,299 tonnes | 793,328 tonnes |
| Central region receivals | 335,029 tonnes | 578,746 tonnes |
| Eastern region receivals | 91,261 tonnes | 117,515 tonnes |
Deliveries into the Viterra network surpassed 1 million tonnes during the week with growers delivering over 760,500 into Viterra sites, taking total new season receivals to over 1,489,500 tonnes.
Viterra General Manager Operations, Gavin Cavanagh says we broke a receivals record in October.

"We've just had our biggest October ever with growers delivering over 925,000 tonnes to Viterra sites during the month," Gavin says.

"Thank you to our employees for their efforts preparing for harvest, ensuring we were ready to provide a valuable service when growers were ready to deliver. Our team continue to be focused on moving deliveries through our network as safely and efficiently as possible for our grower customers."

Central region deliveries ramped up last week, with over 335,000 tonnes received. Viterra Central region Operations Manager, Jack Tansley says deliveries peaked on Friday.

"Most of the mid north sites were busy towards the end of the week with barley the major commodity received and smaller tonnages of field peas and beans into Gladstone and Balaklava," Jack says.

"Wallaroo had its busiest day so far this harvest on Sunday with almost 19,000 tonnes received and wheat the main commodity, while the northern Yorke Peninsula lentil harvest is starting to wind down."

Viterra Western region Operation Manager, Nick Pratt says it was a big week with consistent deliveries in some areas and harvest starting to slow in others.

"Our Poochera site received their first delivery during the week," Nick says.

"Lentil receivals were solid into Yeelanna and Port Neill. Canola and barley are also going strong into Cummins.

"Growers around the far west are starting to wrap up their harvest, and in some cases they've already finished. Despite the drier conditions, growers in the area have been happy with their season with grain quality and yields in line with their predictions."

Viterra Eastern region Operations Manager, Andrew Cannon says the warmer weather saw more sites in the region receive their first loads and open for weekend operations.

"Karoonda, Keith, Wolseley and Dooen received their first deliveries during the week. With improving harvest weather, most of our sites were open over the weekend to service local grower demand," Andrew says.

"In the northern Mallee, we continue to see strong receivals of barley and our Loxton and Werrimull sites received their first new season wheat.

"Receivals into our new lentil segregation at Karoonda kicked off on Monday. We've had some great feedback from lentil growers north of the site that they're pleased to save on travel time with a new delivery point for their lentils.

"We also received our first lentils into Dooen and Pinnaroo and new season canola at Tailem Bend and Inner Harbour."

Last week also marked the opening of applications for Viterra's certified traineeship programme, which boosts career pathways in regional South Australia. The two-year programme will allow successful applicants to build their skill sets and gain on-the-job work experience, while working towards a nationally-recognised Certificate III qualification in Rural Operations. Read more about Viterra's traineeship programme.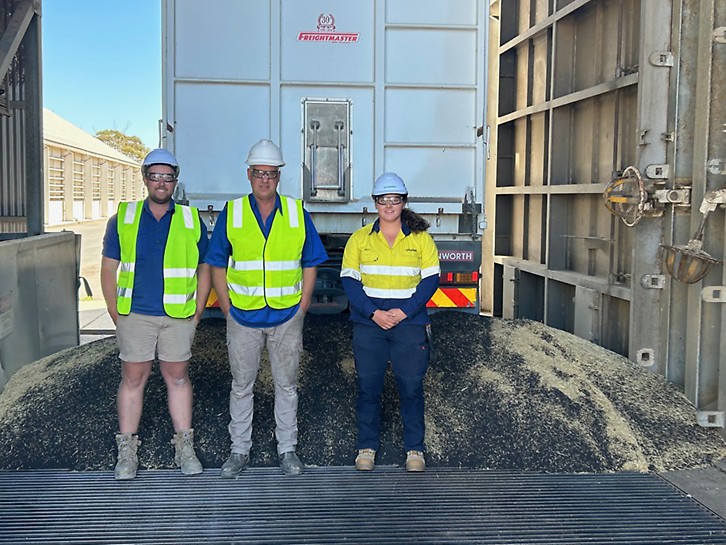 Disclaimer
* This data is subject to variation due to individual site operations and the timing of reports.
** The total 2023/24 data includes grain received into Viterra's storage and handling network since 25 September 2023.