| | 6 - 12 November 2023 | Total 2023/24 harvest** |
| --- | --- | --- |
| Viterra total receivals* | 1,000,945 tonnes | 2,490,798 tonnes |
| Western region receivals | 355,317 tonnes | 1,148,801 tonnes |
| Central region receivals | 471,801 tonnes | 1,050,570 tonnes |
| Eastern region receivals | 173,827 tonnes | 291,427 tonnes |
Deliveries into the Viterra network ramped up during the week with growers delivering over 1 million tonnes, taking total receivals for the season to almost 2.5 million tonnes. Wheat made up just over half of total commodities received.
Receivals in both the Western and Central regions have now topped 1 million tonnes.

Viterra Western region Operations Manager, Nick Pratt says it was a busy week for the region helped by the warmer conditions.

"The weather during the week was great for growers and had the whole region harvesting," Nick says.

"While sites further up in the Eyre Peninsula (EP) have started to slow down, the lower EP has continued to increase. Port Lincoln and Cummins have been our busiest sites.

"Grower sentiment has been very good. Most are saying they'll be finishing a few weeks ahead of a typical harvest this year."

Nick says the company hit another milestone for the 2023/24 season after loading the first vessel for the season at Port Lincoln, bound for China.

"We finished loading our first new season grain vessel at Port Lincoln, and we started loading a ship at Thevenard over the weekend."

The shipment of 66,000 tonnes of barley kicks off the 6.3 million tonnes of shipping booked for grain delivered into the Viterra network.

Read more about the first vessel.
Viterra Central region Operations Manager, Jack Tansley says the Central region had its biggest week so far this harvest with over 471,000 tonnes received.

"The biggest volume during the week was into the Yorke Peninsula sites, Wallaroo, Ardrossan and Port Giles," Jack says.

"Snowtown and Bowmans were also getting busy with both wheat and barley receivals. Gladstone and Crystal Brook have started to build in volume with growers harvesting all commodities.

"The lower north is starting to get going with Saddleworth and Eudunda receiving their first loads on Monday.

"We're now seeing higher volumes of wheat as growers in the region progressively complete their lentil harvests."

Jack says employees loaded Viterra's first trains with new season grain during the week.

"We loaded our first new season trains at Bowmans and Gladstone during the week, moving grain to port for shipping to international markets," Jack says.

Since the beginning of the season, Viterra has moved over 163,000 tonnes of local growers' grain by rail and truck from its storage sites, moving grain to port for our busy new season shipping programme and overflow to ensure available storage capacity for growers.

Viterra Eastern region Operations Manager, Andrew Cannon says two sites in the region received their first loads during the week.

"Coonalpyn and Bordertown received their first deliveries for this harvest, loads of genetically modified (GM) canola at both sites," Andrew says.

"New season canola deliveries continued to build at Tailem Bend, Keith and Wolseley.

"In the northern Mallee, we are now seeing strong receivals of wheat into our Loxton and Werrimull sites. In the southern Mallee at Lameroo and Pinnaroo, we are receiving steady volumes of barley and lentils and some early wheat deliveries.

"With good harvest weather throughout the week and over the weekend, sites were open with extended hours to meet the needs of growers in the region."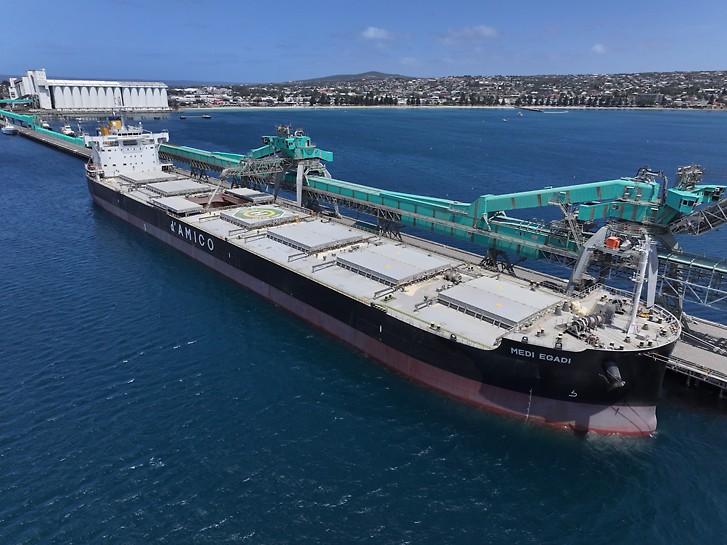 Disclaimer
* This data is subject to variation due to individual site operations and the timing of reports.
** The total 2023/24 data includes grain received into Viterra's storage and handling network since 25 September 2023.